Group Show at MoMA PS1
I will have work in a special exhibition at MoMA PS1 organized by Arthur Fournier to coincide with the Printed Matter's 2017 NY Art Book Fair.
The works will be on display in Gallery S202 on the second floor of MoMA PS1, in the side room of the FOOD SEX ART | Starving Artists' Cookbook Archive.

Jay
FOOD SEX ART | The Starving Artists' Cookbook Archive 1986-1991
Arthur Fournier Fine & Rare is proud to present FOOD SEX ART | The Starving Artists' Cookbook Archive 1986-1991, a collection of video art and original works on paper gathered by artists Paul Lamarre and Melissa Wolf (EIDIA House) during the late 1980s to document the culinary practices of creative communities in New York City's East Village and beyond. The exhibition will take place during Printed Matter's New York Art Book Fair, 

September 21–24, 2017

, at MoMA PS1. Join us for a special event in the Classroom at 

3 pm

 

on Sunday the 24th

 featuring Anthony Haden Guest, Donald Goddard, Betty Tompkins, Bill Mutter, David Sandlin, Bonnie Sherk and Maynard Monrow discussing the role that cooking and dining with friends, lovers and collaborators has played in their creative lives.
Over the project's five year span, Lamarre and Wolf visited more than 150 artists in their kitchens and studios, capturing Peter Beard, Tony Bevan, Louise Bourgeois, John Cage, Papo Colo, Tony Conrad, Quentin Crisp, Judy Glantzman, Al Hansen, Shigeko Kubota, Gracie Mansion, Jonas Mekas, Marilyn Minter, Alan W. Moore, Arleen Schloss, Willoughby Sharp, Bonnie Sherk, Carolee Schneemann, Sur Rodney (Sur), Betty Tompkins, Endre Tót, William Wegman, Lawrence Weiner, Hannah Wilke, Martha Wilson and others cooking and philosophizing about the alchemical union between art and life that activates when friends and lovers come to dine.
Nearly ten hours in length, the monumental work was first screened at Anthology Film Archives in 1989 and released as a six-volume video series. That same year, EIDIA House also published its limited-edition Starving Artists' Cookbook, emblazoned with the words 'food sex art' overlaying an original cover design by Lamarre showing Komar & Melamid's "Pravda Burger" in an outstretched palm.
This project for the NY Art Book Fair will mark the first time that The Starving Artists' Cookbook Archive has been comprehensively exhibited. The show includes a selection of twenty-five original artworks, as well as photographs, ephemera, handwritten recipes and manuscript correspondence with the contributors. Two classic cart-mounted Sony CRT video monitors will display continuous loops from the Starving Artists' Cookbook "Highlights Tape." In the adjacent room, Fournier will offer a selection of rare works from the canon of related culinary serials, prints, and books, including a limited number of first-edition copies of the original Starving Artists' Cookbook.
IN THE CLASSROOM
Sunday, Sept. 24
, 
3-4 PM
in MoMA PS1 rm. S205
---
Paul Lamarre & Melissa Wolf in conversation with Anthony Haden Guest, Donald Goddard, Betty Tompkins, Bill Mutter, David Sandlin, Bonnie Sherk and Maynard Monrow.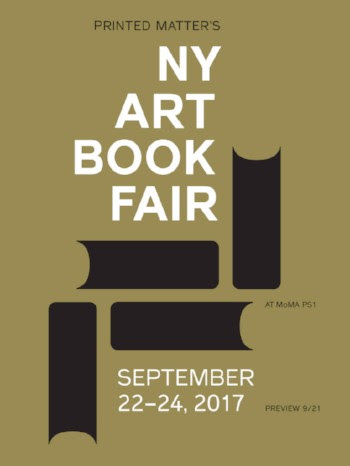 Arthur Fournier Fine & Rare for Printed Matter's 2017 New York Art Book Fair. Special thanks to Tarajia Morrell of The Lovage for her invaluable support and guidance on food-related special projects.
---
ICE CREAM FLAVORS
Blackened Banana +
Mock Apple Pie
---
Visit Morgenstern's Finest Ice Cream in Lower Manhattan to sample flavors inspired by artists' recipes from the Starving Artists' Cookbook. Click here for details.
Copyright © 2017 Arthur Fournier Fine & Rare, LLC, All rights reserved.
You're receiving this e-mail because we're friends, we've done business together, or you wrote your name on my list at a rare book show.Our mailing address is:

Arthur Fournier Fine & Rare, LLC
SOLO SHOW "CLOSED FOR BUSINESS" MNBA SANTIAGO DE CHILE SEPTEMBER 9TH- OCTOBER 29TH 2017
Sala MNBA PLaza Vespucio
JAY BATLLE: CLOSED FOR BUSINESS
Segunda exposición del artista estadounidense en la sala MNBA Plaza Vespucio. Desde el 9 de septiembre al 29 de octubre.
04/09/2017
Fuente: Museo Nacional de Bellas Artes
En su muestra anterior Free Lunch de 2011, el artista estadounidense Jay Batlle (Nueva York, 1976) ofreció una reflexión sobre las tendencias de la comida gourmet y los hábitos foodies como su fuente de inspiración, pero también como una forma de crítica social. La actual exposición continúa en la misma línea como fruto de sus indagaciones en restaurantes, principalmente en los Estados Unidos, Francia y el Reino Unido. Batlle, examina a través de medios como la pintura, el dibujo, la escultura y la performance, el abismo que se abre entre la buena vida, el éxito, la fortuna, y la realidad.
Plasma sus experiencias en una serie de pinturas y dibujos realizados sobre menús y artículos de papelería recolectados en los establecimientos. Así, articula un cuerpo de obras titulado Restaurant Stationery que constituyen su serie más significativa hasta la fecha. La serie documenta los hábitos alimentarios peripatéticos del artista, el surgimiento de la comida como símbolo del consumo nómada y turístico en la última década.
La exhibición Closed for Business, comprende también la publicación de un catálogo monográfico editado por el Museo Nacional de Bellas Artes, que dará cuenta de los últimos cuatro años de producción.
Sobre Jay Batlle
Su obra se ha exhibido en muestras individuales y colectivas en Asia, Estados Unidos y Europa. Luego de inaugurar en la Sala MNBA, se presentará, desde el 21 de septiembre, en The Starving Artists' Cookbook for the NY Art Book Fair, que se realizará en el MOMA-PS1. Así mismo, participará en una exposición titulada Small Works en C A B I N, Dubái.
Jay Batlle nació en Syracuse Nueva York en 1976. Recibió su Licenciatura en Artes por UCLA – University of California, Los Angeles en 1998. Ha sido artista residente en De Ateliers en Amsterdam (1998-00) y Mana Contemporary en Jersey City, NJ (2014).
Recientemente el trabajo de Batlle fue presentado en el National Academy Museum de Nueva York en la exposición colectiva Self: Artist in Their Absence. Además ha exhibidos en  destacadas galerías y museos como: The Whitney Museum, The Chelsea Museum, The National Academy Museum, Metro Pictures, Esso Gallery, Casey Kaplan, Nyehaus, Andrew Roth, Paul Kasmin, Feigen Contemporary, Thomas Erben, Exit Art y The Dorsky Gallery, todos en la ciudad de Nueva York. The Glass House Museum at Mana, Nueva Jersey; Roberts & Tilton Gallery y Blum & Poe Gallery en Los Angeles, California; Galeria Impakto, Lima; The Ausstellungshalle Zeitgenössische Kunst in Münster, The Abteiberg Museum Mönchengladbach en Alemania; The Museum of Liverpool y The World Museum en Liverpool; De Ateliers, Amsterdam; Galerie Frank, Paris; Roza Azora Gallery, Moscu; Clages Gallery, Colonia; Galleria 1000eventi, Milan and Gallery Phillips de Pury en Dubai.
Su trabajo está incluido en colecciones públicas y privadas, destacando: The Hammer Museum, Los Angeles, California, Arthotek Museum, Colonia; Soho House Group, Londres, Chicago, Estambul, Nueva York y Berlin;  2021 Foundation Nueva York y the Mana Contemporary Collection, Nueva Jersey.
Sala MNBA Mall Plaza Vespucio.
Avenida Vicuña Mackenna Oriente 7110. Primer nivel. La Florida, Región Metropolitana
Teléfono: 22586 32 32 / mnbaplazavespucio@gmail.com
Horario: lunes a domingo 10:30 a 21:00
Entrada Liberada
11 April 2017

Arts Culture Science Technology & Progress
For Our Times
The inaugural cover-story features an exclusive in-depth interview with director Sam Taylor-Johnson Taylor-Johnson was photographed for YES & NO with husband, Aaron, in New York City by Brigitte Lacombe First Edition ON SALE ask for YES & NO at selected WHSmith High Street & Travel Stores and newsagents across the UK & Ireland.  If you can't find a copy or wish to become a subscriber call +44 (0) 1293 312 169 & speak to a member of our dedicated customer care team Alternatively you can email yesandnomag@subscriptionhelpline.co.uk
bulletins & updates — follow YES & NO on Facebook
YES & NO goes on sale in selected outlets in
Europe on 10 April
& the US on 28 April
Jay Batlle's New Limited Edition Book
RESTAURANT RESTAURANT
RESTAURANT-RESTAURANT is an limited edition book of my stationery drawings from the last eight years. This collection contains of over a hundred ink and watercolor drawings. Every drawing in the book is executed on letterhead and menus from restaurants around the world that I have collected and recreated as works of art
Features & Details:
Size Standard Portrait, 8×10 in, 21×26 cm
116 Pages
Hardbound 

Language English
**The first 50 editions of this book come with an original drawing created on a page of Ritz Hotel stationery 
left blank in the book by the artist. A little surprise inside.**
[wpepsc name="RESTAURANT RESTAURANT BOOK" price="272.19″ align="left"]





ORDER HERE LIMITED EDITION WITH ORIGINAL DRAWING
[wpepsc_cart align="right"]
[wpepsc name="RESTAURANT RESTAURANT BOOK" price="272.19″ align="center"]
INTERVIEW IN LA LIBRAIRIE CULINAIRE  EPHEMERE CLICK HERE FULL ARTICLE

A POETIC SHORT FILM MADE BY BROOKLYN-BASED, BRITISH BORN FILMMAKER

CHUKA

UMUNNA ON JAY BATLLE
Jay Batlle on food, art and the motivations of an artist.

FULL INTERVIEW HERE
PIGMENT AND PALETE  @  Gary Lichtenstein Editions
Thank you Iconic wines and GLE at Mana.
For those of you who are interested in purchasing the amazing wine that Iconic has on offer, Birk O'Halloran has created a private portal:
www.iconicwine.com/membersonly
Password: beiconic

photos courtesy of Grace Franck, Mana Contemporary
Jay Batlle "Cold Cuts" Limited Edition Silkscreen Print 22″ x 30″
Edition of 30 signed and stamped $600.00 each.
Contact E: Mellissa Marr at the gallery for purchase




Esso Torino Artissima 2015 
I am very happy to have a new limited edition artist book published by Esso Gallery ‪on the occasion of our forthcoming presentation of my work in Turin during Artissima with Jesscia Carroll.
PRICE: $250.00
SALAD DAYS - each book has a unique drawing by Jay Batlle
Limited Edition Artist Book published by Esso Gallery
INSIDE THE BOOK:

Interview I wrote on Graeme Mitchell for Issue Magazine:
Solo Show New York City 2015
Upcoming Group show in Munich at Spreez gallery
Mana Sculpture Group Show
UPCOMING: THE OTHER SIDE- Group show Chelsea Arts Club – June 2015
"Everything Must Go"
MANA CONTEMPORARY COLLECTION–  New Acquisition: Jay Batlle "White Cosmopolitan"  62″ x 44″
National Academy Museum
Upcoming New York
http://www.nationalacademy.org/self-portraits-of-artists-in-their-absence/
Artists:
Marina Abramovic, Ivan Le Lorraine Albright, Boushra Almutawakel, Vincenzo Amato, William Anastasi, Lyle Ashton Harris, John Baldessari, Will Barnett, Jay Batlle, Cecilia Beaux, Thomas Hart Benton, Ellen Berkenblit, Ernest Blumenschein, Mary Shepard Greene Blumenschein, Umberto Boccioni, Mel Bochner, Christian Boltanski, Dobe Bradshaw, Colleen Browning, Brian Calvin, Peter Campus, Davide Cantoni, Chuck Close, Susanna Coffey, Daniela Comani, Gohar Dashti, Robert De Niro Sr., Aron Demetz, Sussan Deyhim, Edwin Walter Dickinson, David Dixon, Marcel Duchamp, Asher B. Durand, Thomas Eakins, Charles Loring Elliott, Louis Faurer, Carlo Ferraris, Stefano Fioresi, Gertrude Horsford Fiske, Saul Fletcher, John Frazee, Angel Miguel Garcia, Rachel Garrard, Shadi Ghadirian, Fereidoun Ghaffari, Amirali Ghasemi, Gilbert and George, Kathleen Gilje, Allen Ginsberg, William Gropper, George Grosz, Janice Guy, Samia Halaby, Lilian Wescott Hale, Bendix Harms, Mona Hatoum, Ghazaleh Hedayat, Julie Heffernan, Barkley L. Hendricks, Daniel Huntington, Peter Hurd, Rana Javadi, Eastman Johnson, Titus Kaphar, James Karales, Nadia Khawaja, William King, Everett Raymond Kinstler, Jeff Koons, Jacob Lawrence, Hughie Lee-Smith, Saul Leiter, Annette Lemieux, Mary Fairchild MacMonnies Low, Vivian Maier, Piero Manzoni, Carlo Maria Mariani, Mary Beth McKenzie, Ana Mendieta, Ivan Mestrovich, Felice Waldo Howell Mixter, Randy Moore, Walter Moroder, Samuel F.B. Morse, Nzingah Muhammad, Peter Nagy, Bruce Nauman, Senga Nengudi, Shirin Neshat, Richard Nonas, Tameka Norris, Toyin Odutola, Luigi Ontani, Catherine Opie, Dennis Oppenheim, Meret Oppenheim, Walter Pach, Giulio Paolini, Philip Pearlstein, Giuseppe Penone, Robert Phillipp, Howardena Pindell, Sylvia Plimack Mangold, Edith Mitchill Prellwitz, Florio Puenter, Luisa Rabbia, Arnulf Rainer, Ellen Emmet Rand, Annie Ratti, Robert Rauschenberg, Charles Vincent Sabba, Salvo, Paul Starrett Sample, John Singer Sargent, Peter Saul, Eugene Francis Savage, Salvatore Scarpitta, Andres Serrano, Jonathan Shahn, Cindy Sherman, Tal Shochat, Jessica Shokrian, William Arthur Smith, Raphael Soyer, Vera Tamari, Vladimir Tamari, Wayne Thiebaud, Anne Thulin, George Clair Tooker, Iké Udé, Walter Ufer, Carlos Vega, William Villalongo, Andy Warhol, William Wegman, Ai Weiwei, Hanna Wilke, Bill Witt, Beatrice Wood, Francesca Woodman, Andrew Newell Wyeth, James Browning Wyeth, Newell Covers Wyeth, Inass Yassin, Michele Zalopany.
Lima. Peru
http://galeria-impakto.com/
http://www.galeria-impakto.com/catalog/
CUTTING OUT THE MIDDLEMAN ARTNET
FRIEZE REVIEW